Heritage Bank mobile banking

The Opportunity
Heritage Bank's existing mobile applications on Android and iOS required additional functionality to support the New Payments Platform (NPP).
This significant functional change provided the additional opportunity to review their mobile banking platform's useability, scalability, and performance, which Heritage considered underperforming, and customers disliked.
4impact's Approach
4impact assembled a cross-discipline team, blended with Heritage Bank's internal digital and technical staff.
A rapid discovery phase identified critical technical issues with the existing native mobile applications and the integration with Heritage core systems. In addition, new integrations and APIs were required to support NPP platform functionality.
The mobile applications required reverse engineering as the original development and testing documentation was non-existent.
A parallel team worked on customer and user experience to elevate the applications to the level of useability and quality Heritage customers expected. The result was a significant refactoring of the original mobile applications.
4impact and Heritage collaborated end to end, from requirements, wireframing, development, testing through to release. 4impact DevOps teams restructured and automated the development and release environments to ensure future improvements and updates were frequent, cost-efficient and straightforward.
4impact continued to support the full environment for several months past the warranty period until the internal operation teams were upskilled and confident to support the applications and integrations to core systems.
> Download the Full Heritage case study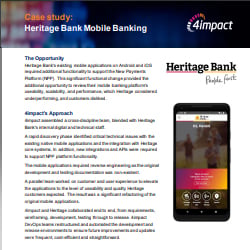 Note: The information presented in this case study is for educational and informational purposes only. Results or outcomes presented in the case study may not be typical and should not be used as a basis for making decisions without first consulting a qualified professional. 4impact disclaims any liability for any loss or damage resulting from the use of or reliance upon the information contained in this case study.
Want to know more about this Project? Let's talk!