RACQ new pet insurance product

The Opportunity
RACQ developed an idea to launch a new insurance product for pets, their first new insurance product in over a decade.
Once built, the product was required to integrate into their already existing Claims and Billing systems.
4impact's Approach
We provided RACQ with a blended model team, with consultants on and off shore; and on site in the client's office integrated with the RACQ team.
The team worked closely with RACQ resources to effectively plan, scope, build and implement the new pet insurance product; following our Agile methodology and using our in-house project suite as the hub of development.
Project Outcome
Acknowledged as a highly successful project by RACQ, the new Pet Insurance product was released to the public in October 2015 and continues to operate successfully.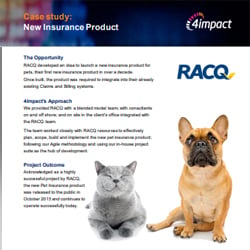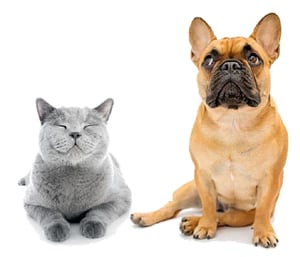 Note: The information presented in this case study is for educational and informational purposes only. Results or outcomes presented in the case study may not be typical and should not be used as a basis for making decisions without first consulting a qualified professional. 4impact disclaims any liability for any loss or damage resulting from the use of or reliance upon the information contained in this case study.
Want to know more about this Project? Let's talk!
RACQ Pet Insurance Product Case Study