Tertiary Education provider, Pilot MDM Single view of Student
The Opportunity
One of Queensland's Top 5 Tertiary providers engaged 4impact to work on their "Pilot MDM for Person data" project, which aimed to achieve key objectives towards Master Data Management (MDM) and deliver foundational elements towards the Minimum Viable Product (MVP) for:

Golden record of 'Person' (Student)

Measuring trust in/for their data
The goal was to enable the Institution to achieve their broader Data Governance objectives through a comprehensive MDM solution.
4impact provided MDM consulting, analysis and implementation services to support the project.
4impact's Approach
To achieve the objectives of the project, 4impact conducted a series of workshops with key stakeholders to define and communicate the MDM vision, business value, strategy, roadmap, and broader requirement for MDM in the context of broader Data Governance.
Project Outcome
The Pilot successfully identified and delivered improved data quality and master data relating to core Master Person (Student). Based on the work both a Data quality MDM framework and roadmap could be presented supporting an in-depth approach to the assessment and maintenance of ongoing Data Governance.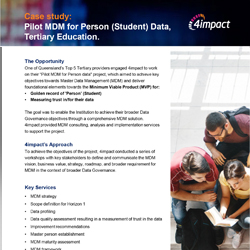 Note: The information presented in this case study is for educational and informational purposes only. Results or outcomes presented in the case study may not be typical and should not be used as a basis for making decisions without first consulting a qualified professional. 4impact disclaims any liability for any loss or damage resulting from the use of or reliance upon the information contained in this case study.
Want to know more about this Project? Let's talk!
Tertiary Provider Pilot MDM Case Study