Systems Integration and API Services: we help maximise your technology investments.
Helping to orchestrate project success and navigate change in Fintech SI and complex industries.
4impact helps complex organisations such as banks, insurers, infrastructure, enterprise and more to navigate the complexities of technology transformation and legacy technology modernisation.
We bridge the gap between our client's internal capabilities and the delivery capabilities of technology vendors. 4impact is the orchestrator that helps to deliver fully realised end-to-end solutions.

Our key goals include maximising the speed and quality at which data flows through different channels, boosting productivity and enhancing the quality of day-to-day operations.
Our role as System Integrator is to plan, design, implement, coordinate, improve and maintain complex technology changes.
This role is not limited to just applications but also supports:
the business processes that utilise the applications.
ensuring data is easily accessible for all subsystems, all users can work together.
the complex many-to-many integrations, both internally and with third parties.
the underlying enabling infrastructure.
the planning and coordination of the numerous suppliers involved.
the upskilling and knowledge retention of staff and users.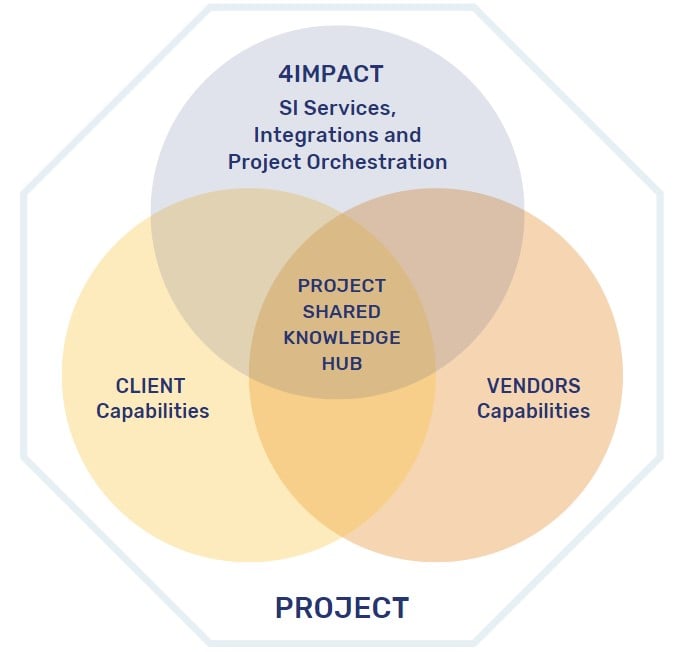 Some of the integration technologies we work with:
Kafka

Camel

Azure service bus

Azure data factory

AWS lambda

Azure functions

AWS SQS/SNS

IoT/MQTT
Put simply, we get integration.
Let's start a conversation about solving your system integration challenges.